First: The Dangers of Exposure in Arctic Environments
Exposure to solar radiation, which varies depending on the thickness of the ozone layer, season and angle of the sun's rays, can be significantly higher at the Poles. In addition, snow reflects between 80 and 90 percent of solar radiation, compared with 20 percent on non-snowy ground. Beyond harmful solar rays, the wind and cold can damage eyes if they are not protected by goggles or sunglasses.
All this can lead to many issues, including:
Photokeratitis, or snow blindness, which is the erosion of the cells covering the cornea and is caused by prolonged exposure to UVB rays.
Erythropsia, or the retina's exhaustion, results from prolonged exposure to intense light stimulation.
"White out" syndrome, a freezing of the eyelids in extreme cold, can cause tearing, loss of perception of terrain, and photophobia.
Irreversible necrosis is caused by freezing the cornea if not treated rapidly.
1. Ensure a proper fit
Secure and comfortable sunglasses will stay in place and blend into the background while traveling across arctic environments. The sunglasses in Julbo's Mountain category offer many features to create a perfect fit.
ADJUSTABLE TEMPLES AND NOSE PIECES: Shapeable parts allow you to customize your fit, keeping the sunglasses secure to your face in any situation. For an adjustable fit, check out: the Vermont Classic, Cham and Ultimate Cover.
SLIM TEMPLES: Low-profile temples easily slip under a cap, hat, or helmet, providing security and comfort.
GRIP: Strategically placed rubber provides a secure fit, preventing unwanted movement and keeping skin safe from the cold.
ACCESSORY STRAPS: Removable straps that attach to temple arms help reduce the chances of losing your sunglasses and provide maximum retention.
2. Identify the best frame material
Julbo's Mountain sunglasses are available with polycarbonate and metal frames, each with its benefits. 
POLYCARBONATE FRAMES: These frames are lightweight and come in various shapes and styles to fit any face. Polycarbonate can be more brittle than metal, which means they may break more easily if dropped, but Julbo offers replacement parts for every style, ensuring broken sunglasses won't stay that way for long.
METAL FRAMES: These frames tend to be slightly heavier but will bend instead of breaking in the event of an accident. Julbo carries fewer metal frame designs and shapes than polycarbonate options, but their durability and iconic style make them essential for any explorer. Just be aware that metal can stick to exposed skin in extreme cold.
3. Choose a frame with maximum coverage
In addition to protecting your eyes against harmful sunlight, mountaineering sunglasses must defend against the wind, cold, and snow. The sunglasses in Julbo's Mountain category feature side and nose shields and large frames with wrap-around coverage.
THE LARGER STYLES with the most coverage in Julbo's Mountain category are the Ultimate Cover, Shield, Montebianco 2, Explorer 2.0, and Cham.
THE SMALLER AND MEDIUM STYLES in Julbo's Mountain category include the Shield M, Monterosa 2, Camino, and Vermont Classic. 
All styles in Julbo's Mountain category feature side shields, which are removable to increase versatility. The Ultimate Cover also features a removable nose shield.
4. Choose a lens that lets in minimal light
Choose a Category 4 lens with the maximum visible light filtration (VLT), letting through just 3-8% visible light. Four different maximum-filter lenses in the Julbo Mountain category are constructed from various materials to make them ideal for mountain adventures.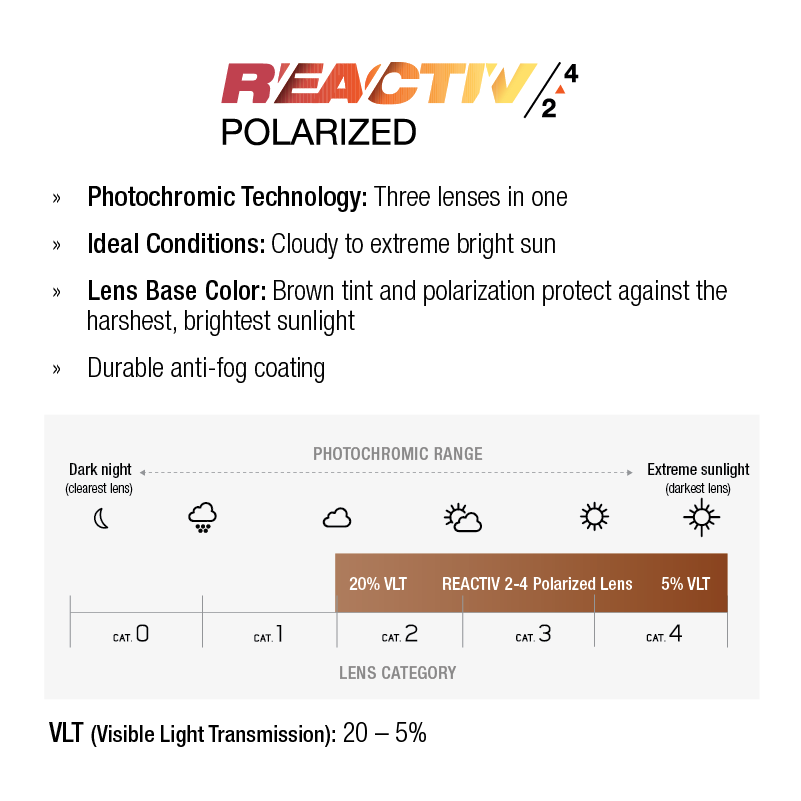 REACTIV 2-4 POLARIZED (VLT: 5-20%):
Non-temperature sensitive photochromic technology adjusts from light to dark depending on light levels. Polarization eliminates glare off reflective surfaces, while the brown base color improves contrast and depth perception. Available in: Shield, Explorer 2, Ultimate Cover, Montebianco 2, Monterosa 2 and Camino.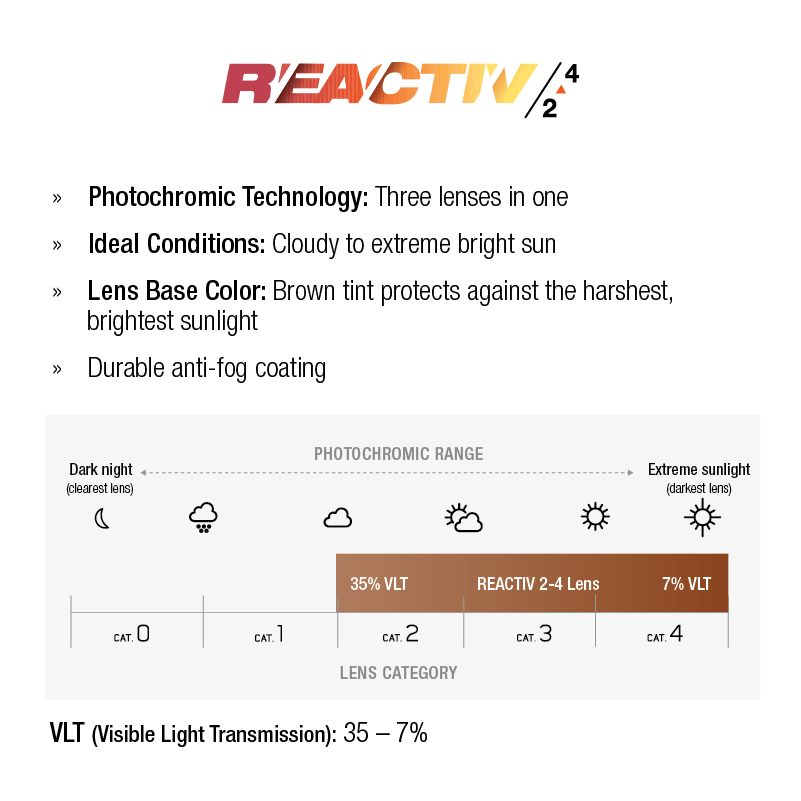 REACTIV 2-4 (VLT: 7-35%):
While the photochromic range is wider than that of the lens above, it doesn't become quite as dark. This photochromic technology is non-temperature sensitive, with superior optical quality, scratch resistance, strength and lightness. This lens's clearer base tint increases luminosity and proves excellent depth perception. Available in: Cham, Camino, Monterosa 2, Montebianco 2, Ultimate Cover, Explorer 2 and Shield.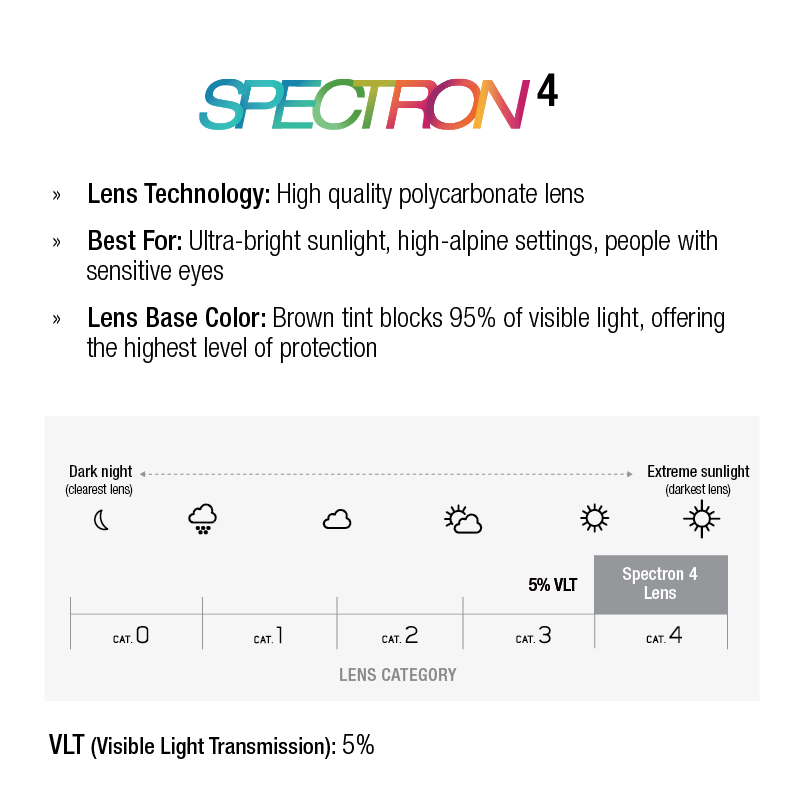 SPECTRON 4 (VLT: 5%):
This polycarbonate lens is lightweight and impact resistant, designed to offer powerful protection for mountain trekking and mountaineering. It's equipped with an anti-reflective coating to improve visual comfort and a flash finish that improves the filtration of visible light and is Julbo's most affordable lens. Available in: Vermont Classic, Cham, Camino, Monterosa 2, Montebianco 2, Shield, Explorer 2 and Ultimate Cover.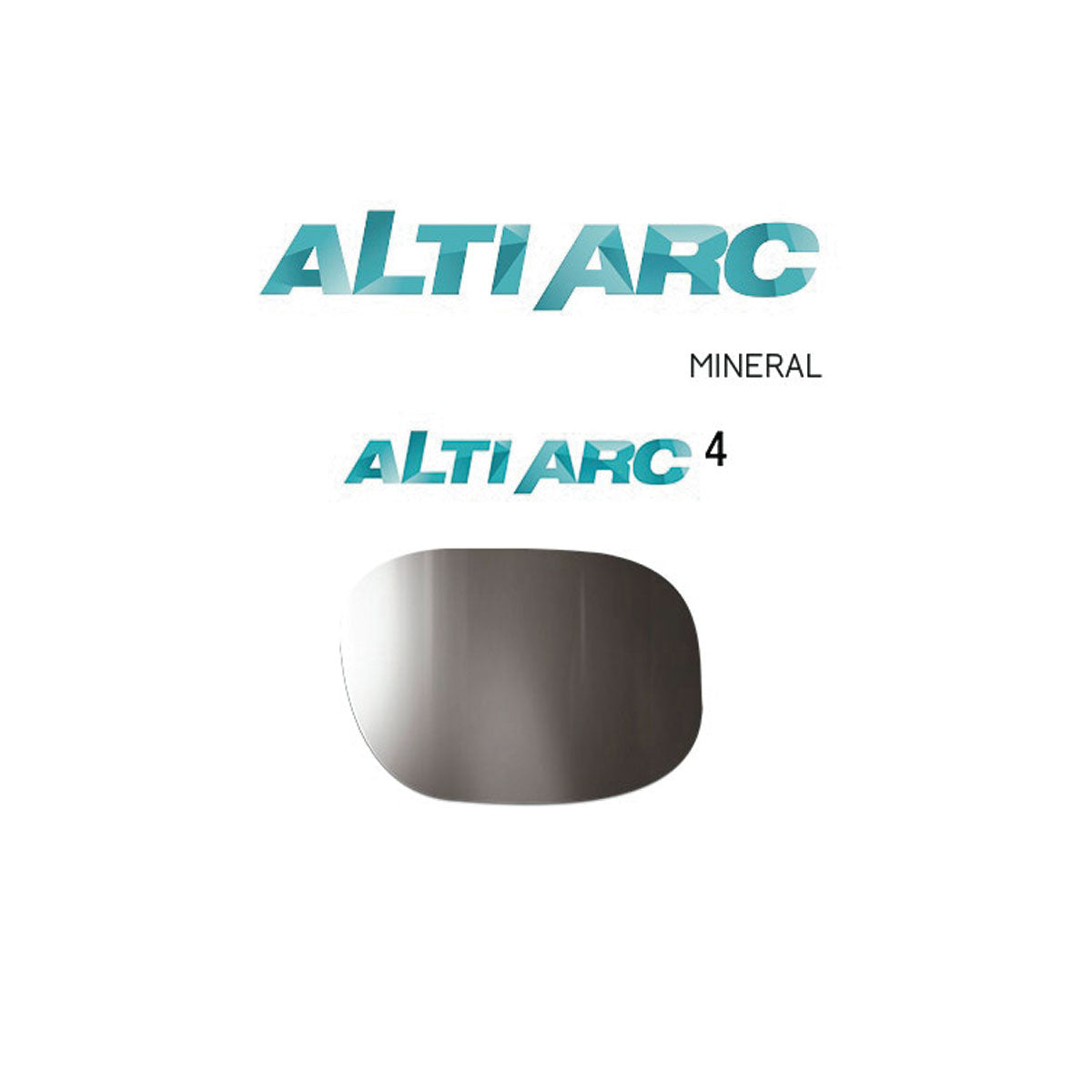 ALTI ARC MINERAL LENSES (VLT: 7%):
The only mineral lens in our range, the Alti Arc lens offers the highest optical quality, with an external anti-reflective coating and flash finish. It is highly scratch-resistant, but its only weak points are weight and fragility in case of impact. This lens is found in the Vermont Classic and Cham.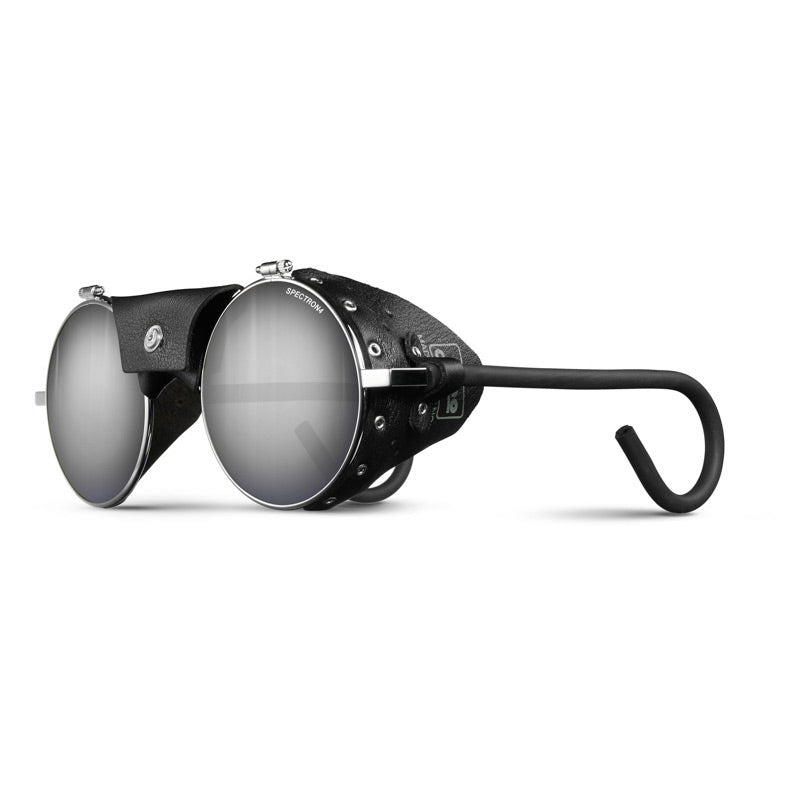 Vermont Classic
The Vermont Classic mountaineering glasses are as timeless as they are stylish. A signature of Julbo's mountain heritage, these sunglasses have been worn by mountaineers and climbers who value comfort and protection in the mountains with an iconic look.
The Vermont Classic has traditional leather side shields and a metal frame, while the temples feature Grip Tech and Earbend to increase grip and comfort around the ears. 
Featuring Julbo's Spectron 4, Spectron 3 and Alti-Arc lenses, the Vermont Classic is a perfect companion for any Arctic adventure.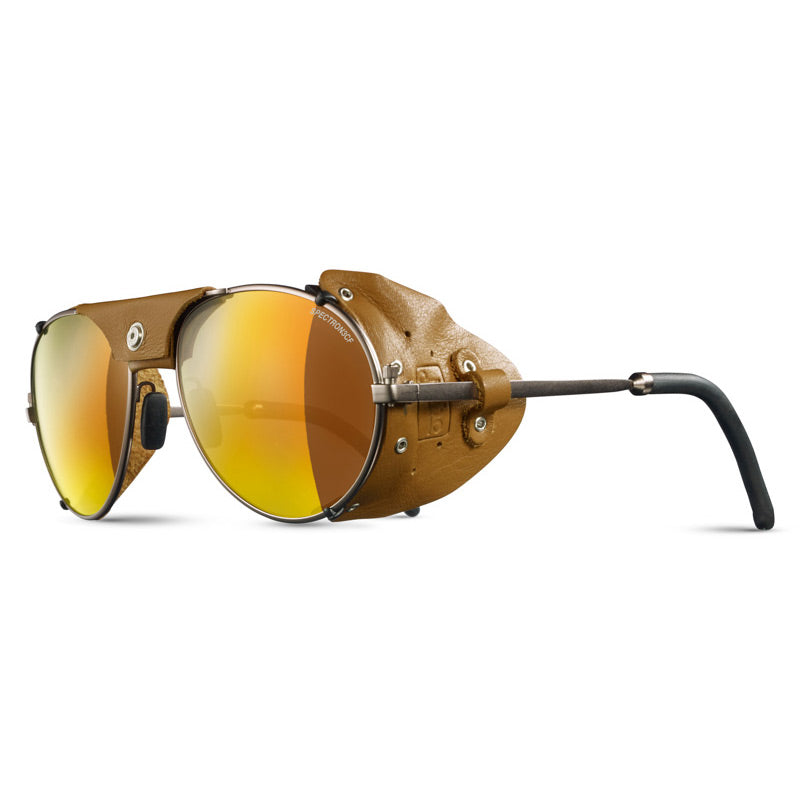 Cham
New generations of mountain travelers nostalgic for earlier times will find their style with the frame worn by the greatest mountaineers of Chamonix. The traditional metal frame and leather side shields offer superior durability and protection, while the Grip Tech and 360-degree adjustable temples elevate the comfort and hold. The Cham is an alpine classic for comfort and vision in the mountains.
Featuring Julbo's Spectron 3 Polarized, Spectron 3, and Spectron 4 lenses and our mineral glass Alti-Arc lens, the Cham can handle any adventure in any condition, with style.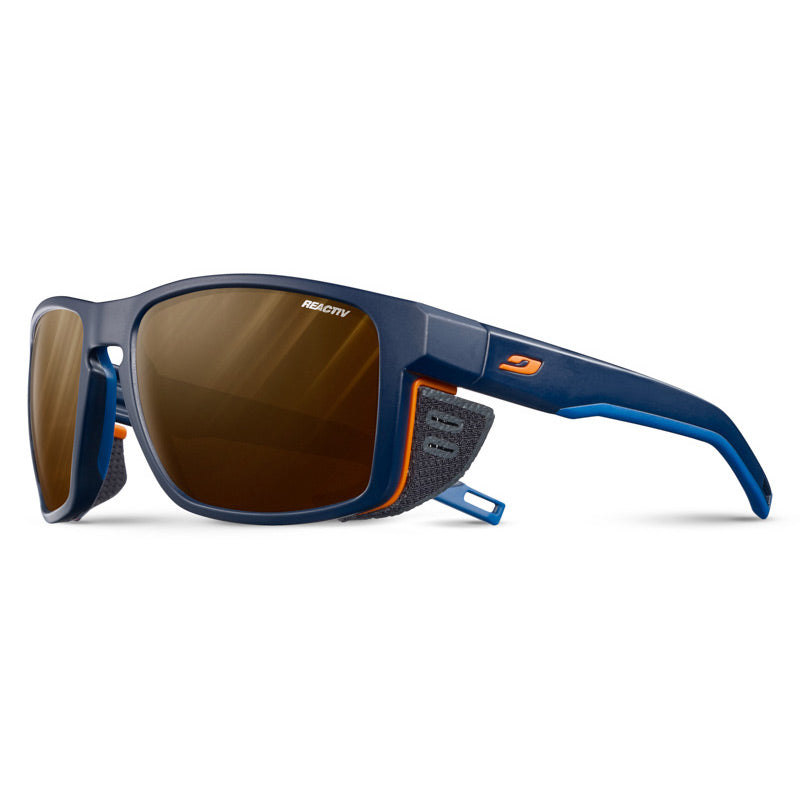 Shield
The Shield checks all the boxes for mountain sunglasses with refined styling and robust features, making it a top choice for any Arctic expedition.
Removable synthetic side shields block unwanted light, Air Flow ventilation keeps fog at bay, and non-slip, curved temples and the Grip Nose ensure total security when things get bumpy. Tackle any Arctic adventure with comfort, security, and style.
The Shield comes equipped with Julbo's REACTIV 2-4 Polarized, Spectron 3 Polarized and Spectron 4 lenses, providing protection against the harshest conditions.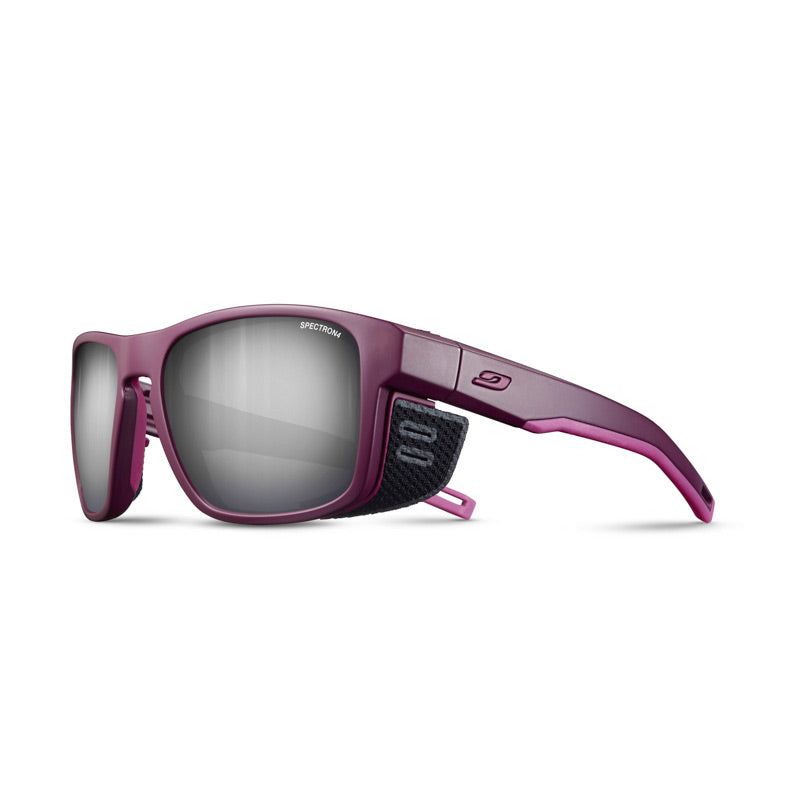 Shield M
The Shield M is the smaller version of the Shield, designed specifically for smaller faces.
The Shield M also comes equipped with Julbo's REACTIV 2-4 Polarized, Spectron 3 Polarized and Spectron 4 lenses, providing protection against the harshest conditions.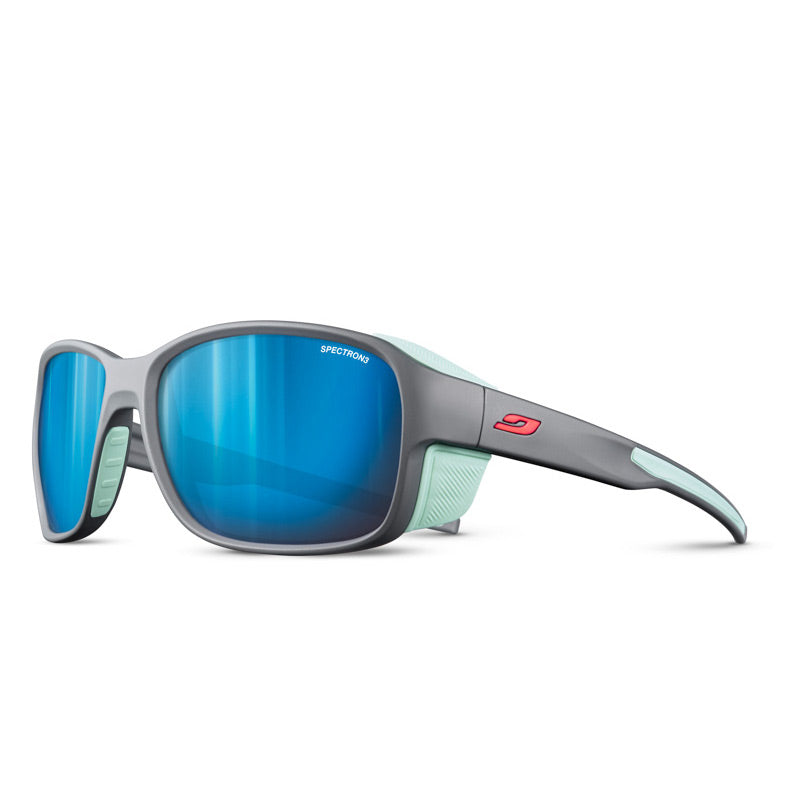 Monterosa 2
Designed specifically for smaller face shapes, the Monterosa 2 has Grip Tech temples, a non-slip bridge, a protective wrap-around design, and removable side shields, making it a benchmark model for Arctic comfort. 
The Monterosa 2 is available with Julbo's REACTIV 2-4 Polarized Photochromic lenses, as well as Julbo's Spectron 3 and Spectron 4 polycarbonate lenses.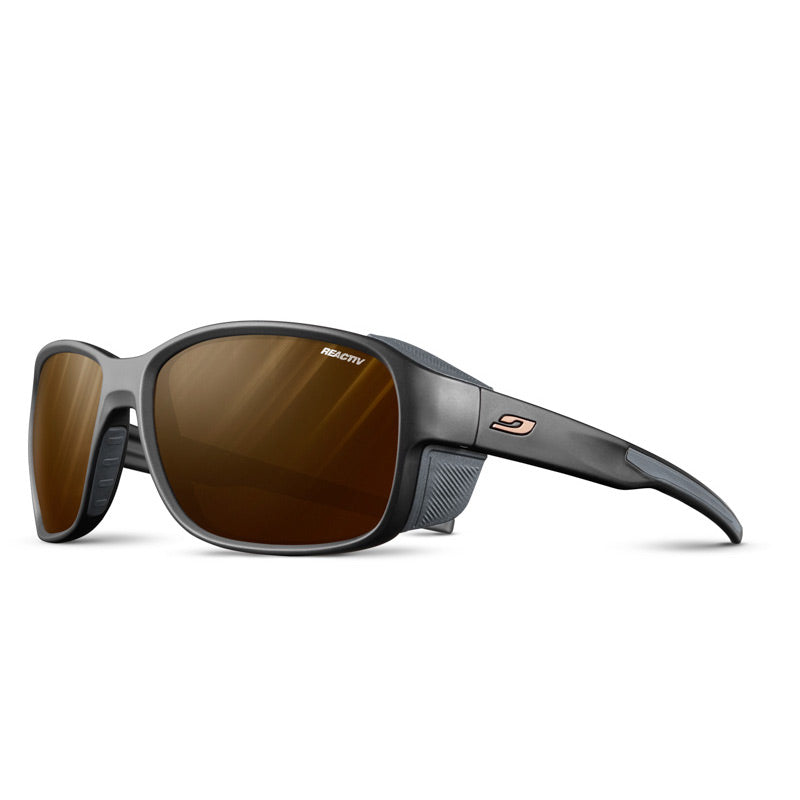 Montebianco 2
Montebianco 2 is the perfect companion for venturing into stunning landscapes. With Grip Tech temples and a non-slip bridge, plus a protective wrap-around design and removable side shields, the Montebianco 2 can handle any environment.
Featuring Julbo's REACTIV 2-4 Polarized lenses, as well as Spectron 3 Polarized, Spectron 4 and Spectron 3 lenses, the Montebianco 2 are versatile and protective, while still oozing style.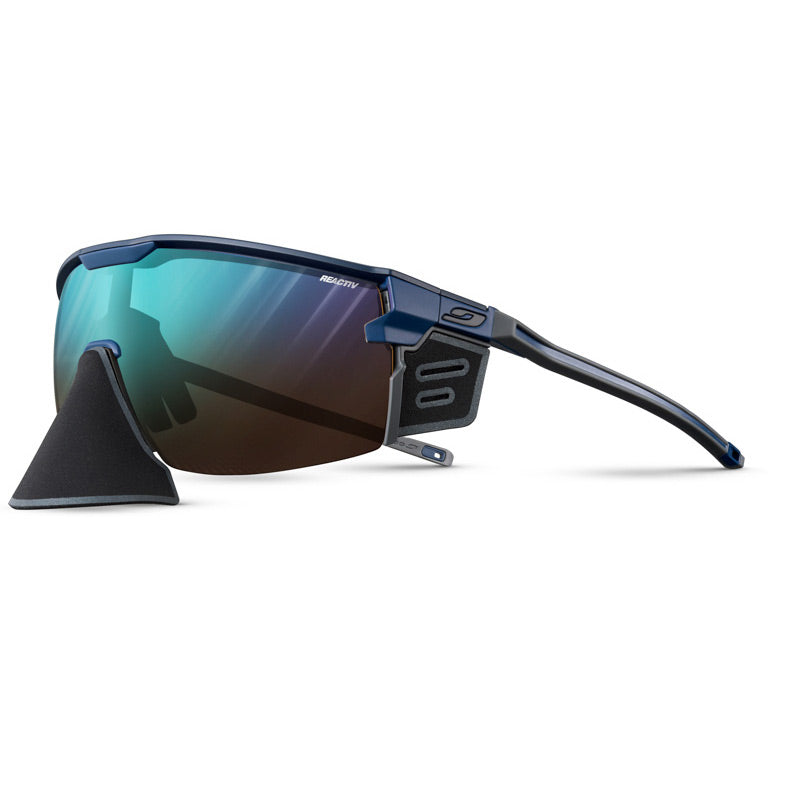 Ultimate Cover
Combining high protection and ultra-lightness, the Ultimate Cover reinvents mountain eyewear. A removable, synthetic nose guard and side shields provide optimal protection against the harshest sun, strongest wind, and most bitter cold. CustomFIT Temples with Grip Tech structure and a 3D Nose offer adjustability for a personalized and ultra-secure fit. A wide, panoramic lens gives a modern look that provides protection, a massive field of vision, and visual comfort, allowing Ultimate Cover to help you push your limits.
Equipped with our REACTIV 2-4, Spectron 4, and Spectron 3 lenses, the Ultimate Cover will keep your vision clear no matter what the Arctic throws at you.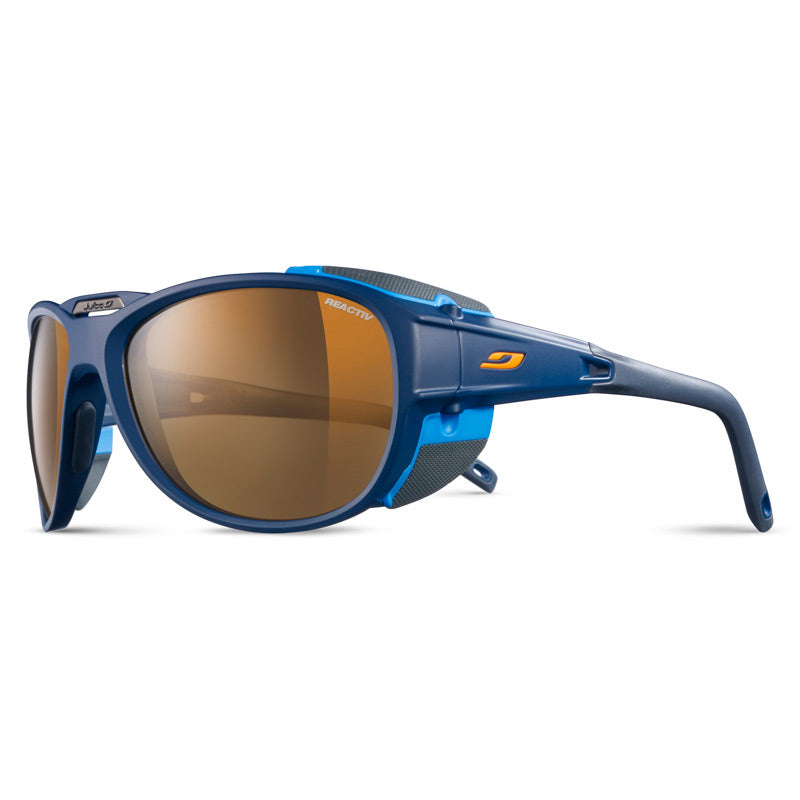 Explorer 2.0
The Explorer 2.0 is Julbo's flagship model for adventures in the most unforgiving environments. With a wide field of vision and wrap-around design, the Explorer 2.0 provides clear vision and superior protection. Equipped with removable side shields, Grip Tech temples, nose grip, and 360-degree adjustable temples, these glacier glasses meet the demands of extreme conditions without compromise.
The Explorer 2.0 provides uncompromising vision thanks to Julbo's REACTIV 2-4 Polarized and Spectron 4 lenses.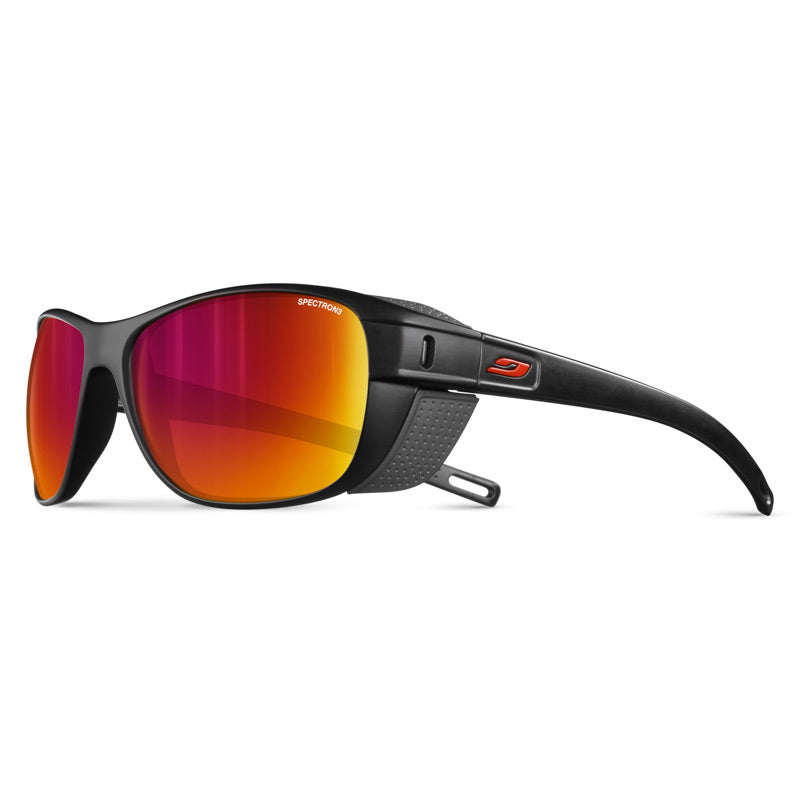 Camino
Lightweight and designed with a focus on function, Camino is an essential piece of eyewear for any adventurer. Spectron polycarbonate lenses and removable side shields offer faultless protection on the brightest days. Let your footsteps and eyes guide you with Camino, whether trekking around Mont Blanc, exploring the summits and valleys of the West, or journeying to Antarctica.
The Camino is available with Spectron 3 and Spectron 4 lenses.