First: What Lenses Are Available
Julbo currently has two different lens types, REACTIV Photochromic and Spectron. 
Photochromic lenses adjust to changing light conditions by getting lighter or darker depending on the amount of UV light present. The more UV light, the darker the lens becomes, and vice versa.
REACTIV Photochromic lenses adjust to changing light conditions and provide clear vision for every situation. With the widest range and fastest reaction time on the market, REACTIV technology leads the industry in performance photochromic eyewear.
REACTIV Photochromic technology is "baked" into the lens, so it never wears off, which is why we back all REACTIV lenses with a lifetime warranty. Each lens takes nearly 20 hours to manufacture, and the optical quality is nearly as good as that of glass. 
If photochromic lenses aren't your thing, we offer a less expensive option in our traditional Spectron lenses. These lenses come in various colors and tints that make them perfect for whatever conditions you find yourself in the most. 
1. The Lenses Are High Quality
You might experience everything from bright, midday sun to overcast, rainy conditions, to even snow in the autumn, which can lead to compromised visual clarity and eye strain. Ensuring clear vision and protection no matter the weather or time of day will enhance your experience.
2. They Offer Superior Eye Protection
Beyond offering protection from the sun's rays, sunglasses help keep your eyes clear from rain, wind, cold, bugs and other things that can disturb your vision. This will help optimize your performance. With durable frames and high-quality lenses, our sunglasses protect whatever the day throws at you
3. They Don't Fog
Nothing ruins a day outside in poor conditions than fogging sunglasses. Luckily, Julbo's anti-fog technology raises the bar with a long-lasting and scratch-resistant finish that, with proper care, will remain effective for the lifetime of the lens.
4. They're Easy To Clean
Cleaning your sunglasses after a muddy ride and being left with streaked lenses that are never the same again is a pain. Not only are Julbo lenses equipped with hydrophobic and anti-fog treatments, but they are easily cleaned with soap and water. No streaking, not residues, just a crystal clear lens.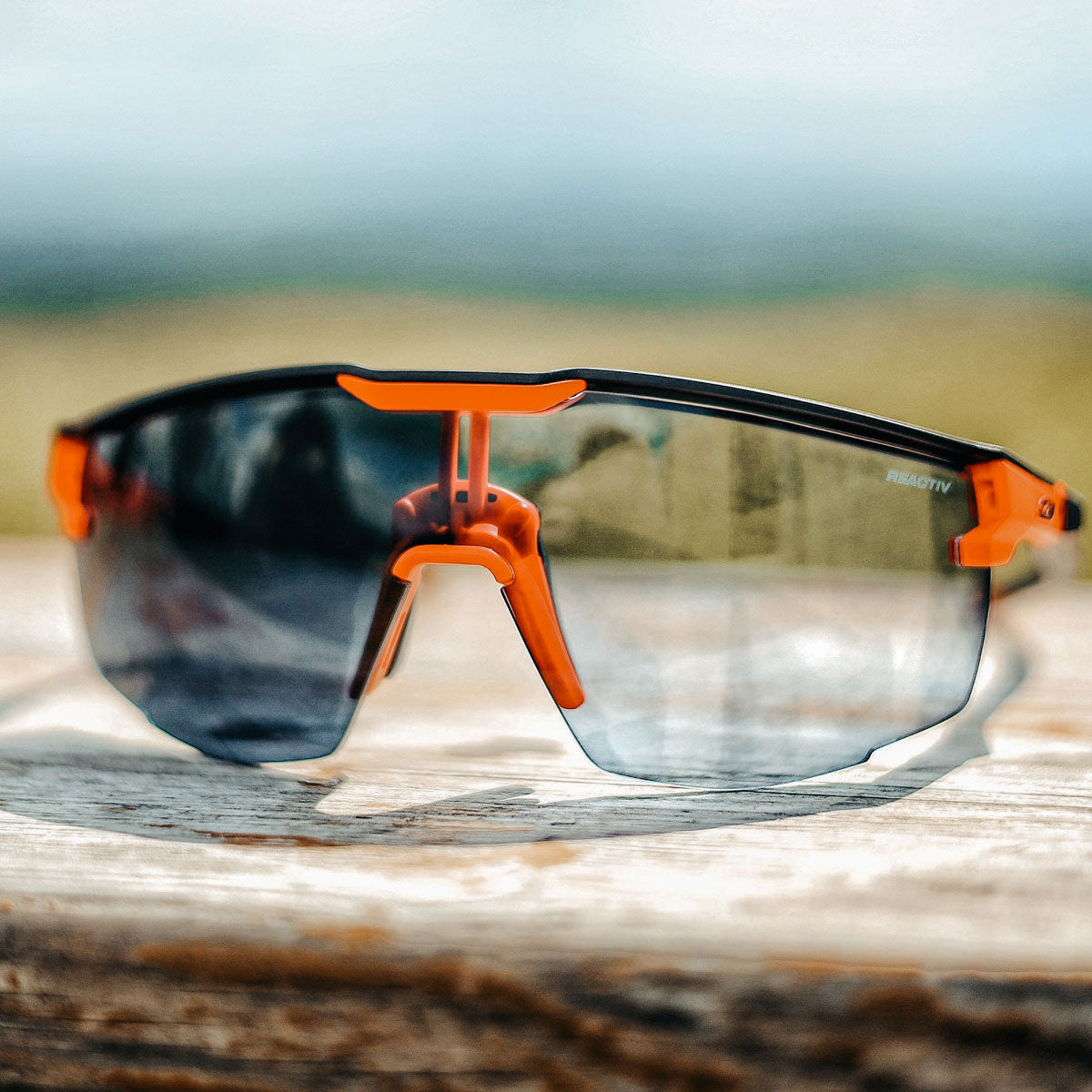 REACTIV 0-3 Clear to Dark
VLT - 12-87% | LENS BASE COLOR: GRAY
This lens offers the widest VLT range of any REACTIV sunglass lens available, transitioning from fully clear in dark conditions to dark gray in full sunlight. This lens is ideal for those who prefer an alpine start or stay out after the sun sets. From rain to snow and everything in between they will provide clear vision, allowing you to focus on what matters.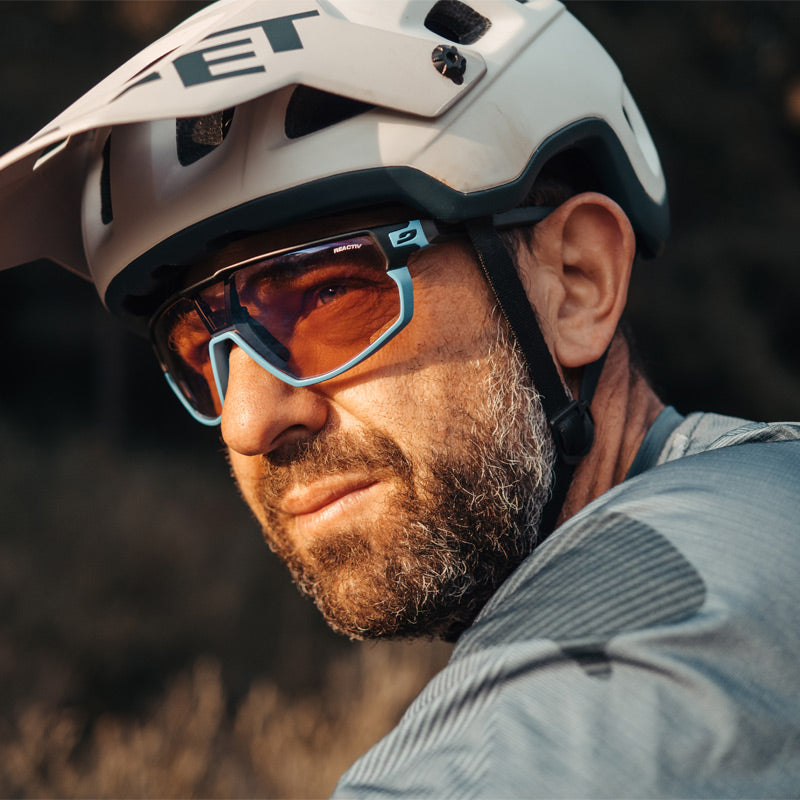 REACTIV 0-3 HIGH CONTRAST
VLT - 15-87% | LENS BASE COLOR: AMBER
The amber tint of this lens protects against glare and improves contrast in full sunlight; the lens will transition to practically transparent in low light. When the light constantly changes from shade to full sun, these lenses will reduce eye fatigue and keep shadows from ruining your experience.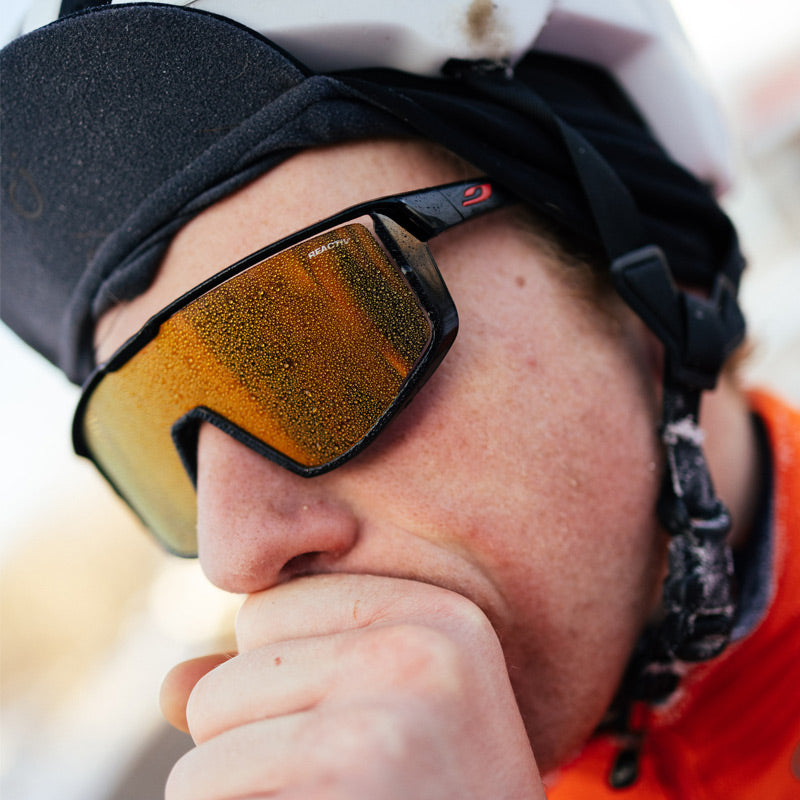 REACTIV 1-3 LIGHT AMPLIFIER
LENS BASE COLOR: YELLOW
These yellow-tinted lenses amplify available light, helping you see every obstacle in your path. They transition from practically clear to yellow, which is particularly helpful at dawn or dusk or in overcast conditions.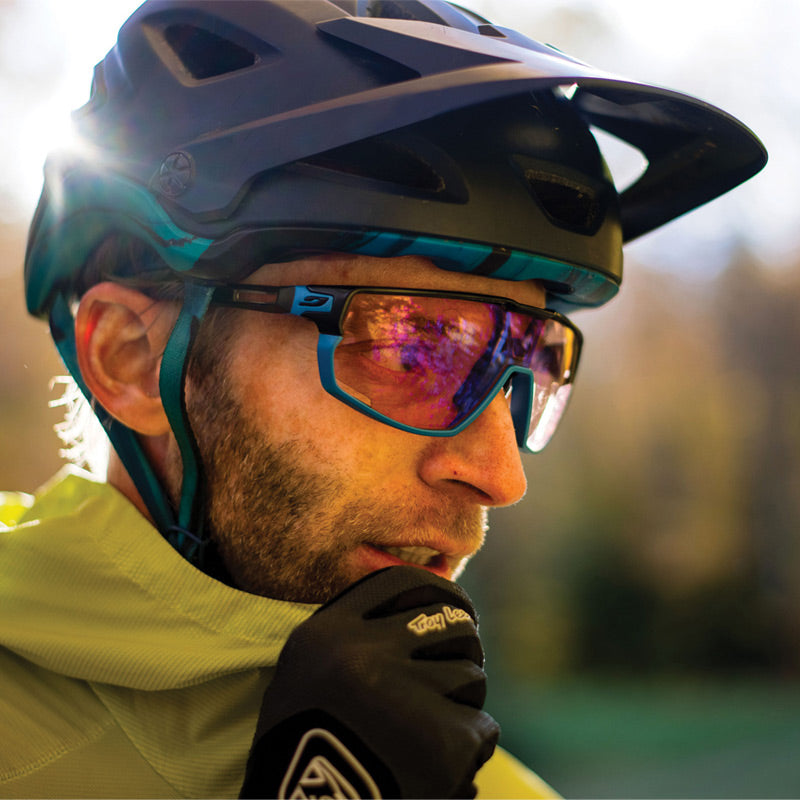 REACTIV 1-3 HIGH CONTRAST
VLT - 13-72% | LENS BASE COLOR: AMBER
Much like the REACTIV 0-3 High Contrast, this lens transitions from practically clear to amber. When the weather turns dark and stormy these lenses will improve contrast, particularly in the shadows.
Terrible weather is an inevitable part of any outdoor activity. On a bike, having clear vision when the weather turns sour is a matter of safety but of enjoyment as well. Julbo's REACTIV lenses will ensure your vision stays clear and the stoke stays high no matter what the weather throws at you.