BUT FIRST…WHAT ARE PHOTOCHROMIC LENSES?
Photochromic lenses adjust to changing light conditions by getting lighter or darker depending on the amount of UV light present. The more UV light, the darker the lens becomes, and vice versa.
REACTIV photochromic lenses adjust to changing light conditions and provide clear vision for every situation. With the widest range and fastest reaction time on the market, REACTIV technology leads the industry in performance photochromic eyewear.
REACTIV photochromic technology is "baked" into the lens, so it never wears off, which is why we back all REACTIV lenses with a lifetime warranty. Each lens takes nearly 20 hours to manufacture, and the optical quality is nearly as good as that of glass.
ARE THERE ANY ALTERNATIVES TO REACTIV PHOTOCHROMIC LENSES?
If photochromic lenses aren't your thing, we offer a less expensive option in our traditional Spectron polycarbonate lenses. These lenses come in various colors and tints that make them perfect for whatever conditions you find yourself in the most.
1. Wide Photochromic Range
Visible Light Transmission (VLT) refers to the percentage of light that filters through a lens—the higher the number, the more light that passes through. A window in a home, for example, might have a VLT of around 70%, allowing most visible light to pass through while filtering enough to keep your sofa from getting bleached. A typical lens, like a home's window, has a fixed VLT—the amount of light it lets through and blocks out remains the same, no matter how bright or dark it is outside. 
The VLT of Julbo's REACTIV lenses, on the other hand, changes as ambient light changes. The REACTIV 0-3 lens, which has the widest VLT range of Julbo's sunglasses, has a range of 87 to 12%. In other words, just 12% of visible light filters through the lens under bright conditions, allowing for ultimate protection. Conversely, 87% of visible light filters through when it's dark out, allowing for nearly total clarity. Regardless of VLT, REACTIV lenses filter 100% of harmful UVA, B, and C light.
2. Superior Optical Quality & Durability
With our industry-leading photochromic technology, REACTIV lenses offer superior optical quality and durability. Made from Trivex—a material used for helicopter windshields—REACTIV lenses set the industry standard for durability and clarity. The optical quality of REACTIV lenses is nearly identical to that of glass and far superior to polycarbonate lenses. In addition, since the photochromic technology is baked into the lens, it won't scratch off or wear off over time.
3. Anti-fog
Sweat and lousy weather are givens when mountain biking. The standard companion to these conditions is fog. Luckily, Julbo's anti-fog technology raises the bar with a long-lasting and scratch-resistant finish that, with proper care, will remain effective for the lifetime of the lens.
4. Value
Mountain biking is an expensive sport. From carbon bikes to electronic shifting and constant maintenance, the costs add up quickly. Fortunately, compared to traditional polycarbonate lenses, REACTIV photochromic lenses provide more value thanks to their high versatility, low maintenance, superior optical quality, and enhanced level of safety. Given their photochromic qualities, they also act like three lenses in one. What's more, all Julbo lenses are backed by a lifetime warranty.
5. Fits Your Riding Environment
From the deserts of southern Utah to the shaded forests of the Pacific Northwest, a lens that fits the conditions you ride in the most will ensure clear vision. Julbo offers a variety of REACTIV lenses that will work perfectly no matter where you ride, whether you're seeking a lens that becomes fully clear for night riding, a lens with a yellow tint for riding at dawn and dusk or a lens with a rose tint to enhance contrast in shadowy terrain.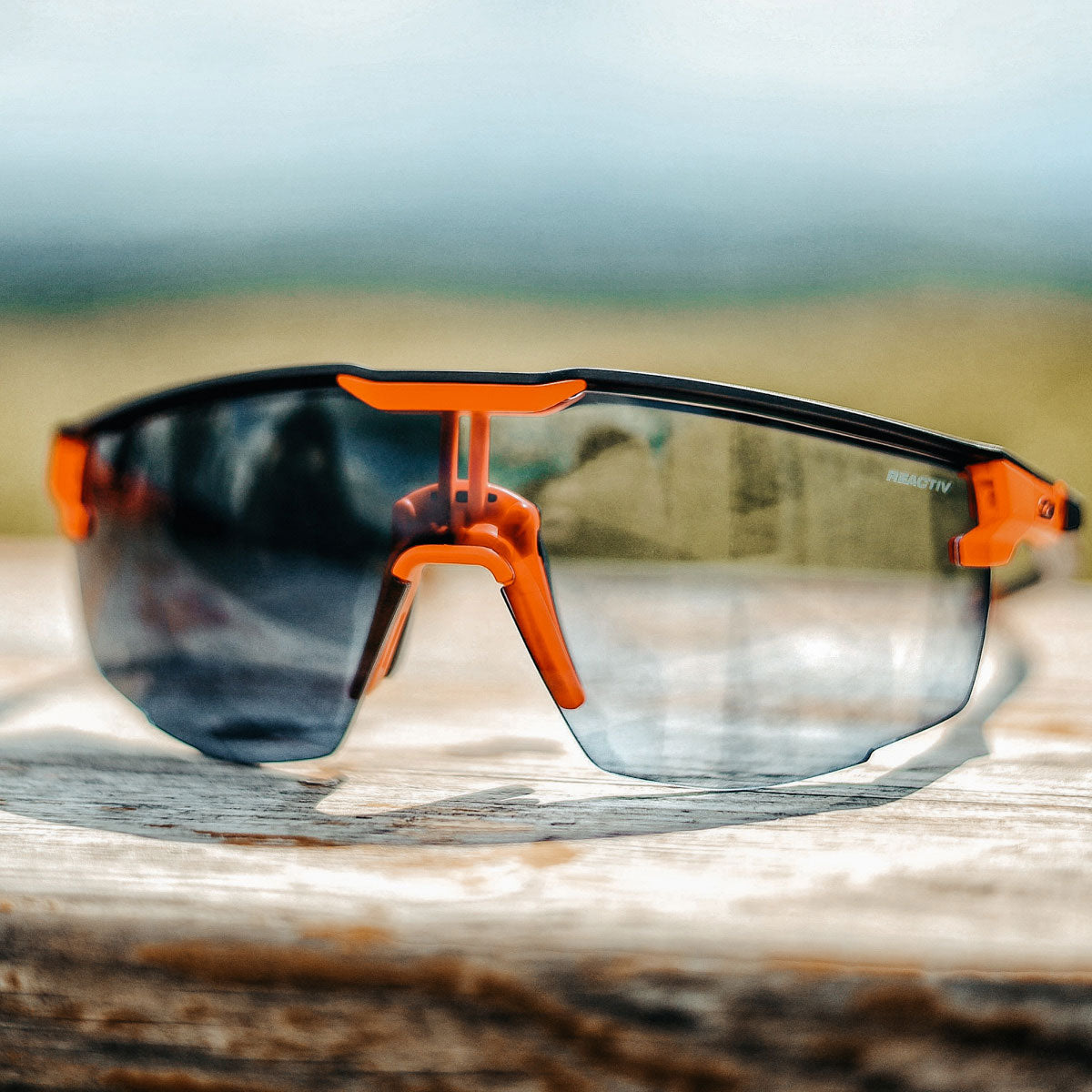 For the Early Riser, Night Owl, or Foul Weather Fan:
REACTIV 0-3 CLEAR TO DARK  | VLT - 12-87% | LENS BASE COLOR: GRAY
This lens offers the widest VLT range of any REACTIV sunglass lens available, transitioning from fully clear in dark conditions to dark gray in full sunlight. This lens is ideal for riders that prefer an alpine start or stay on the trail after the sun sets. These lenses also excel in foul weather—from rain to snow and everything in between they will provide clear vision, allowing you to focus on what matters.
This lens can be found on the FURY, RUSH, AERO, ULTIMATE and AEROLITE.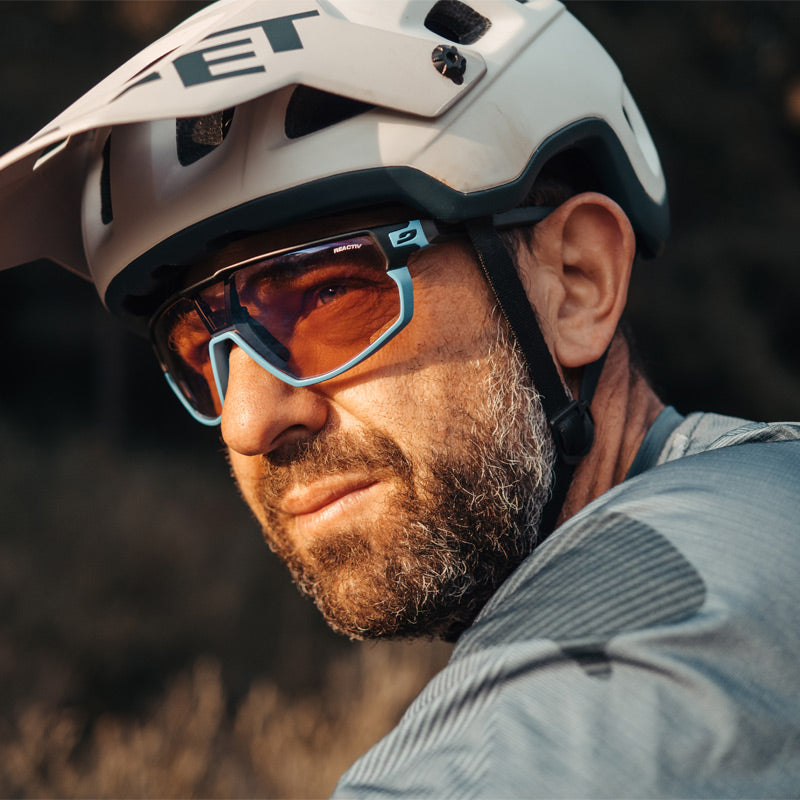 For High-Mountain Missions or Backcountry Explorers:
REACTIV 0-3 HIGH CONTRAST | VLT - 15-87% | LENS BASE COLOR: AMBER
The amber tint of this lens protects against glare and improves contrast in full sunlight; the lens will transition to practically transparent in low light. If the light constantly changes from shade to full sun on your rides, these lenses will reduce eye fatigue and keep shadows from ruining your ride.
This lens can be found on the EDGE, DENSITY, and FURY.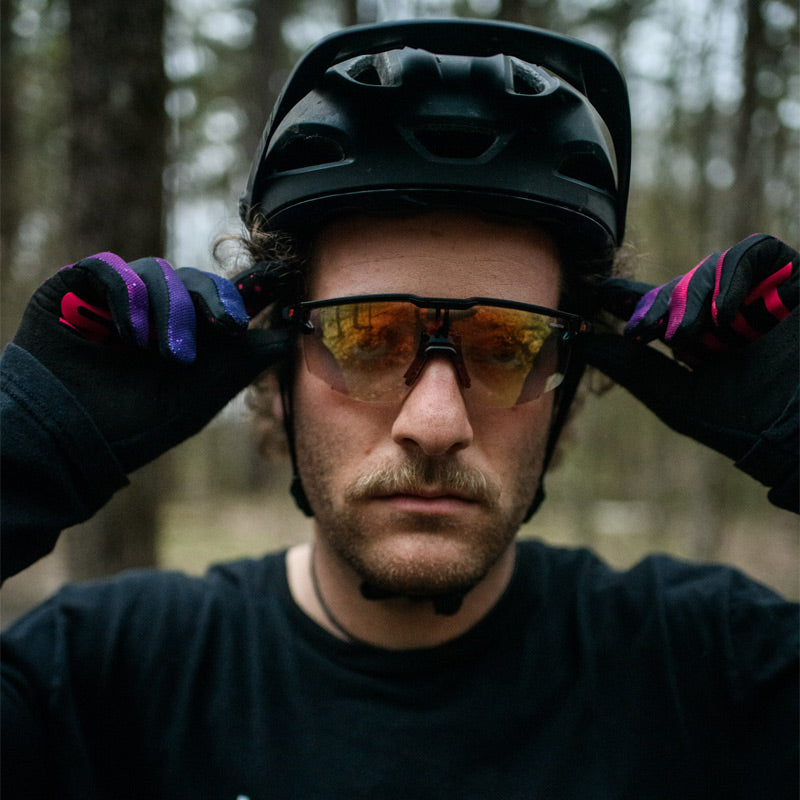 For Shaded Forests or Overcast Conditions:
REACTIV 1-3 LIGHT AMPLIFIER  | VLT - 17-75% | LENS BASE COLOR: YELLOW
Whether you have a busy schedule and can only ride before or after work or live in an area with shaded forests or consistently overcast conditions (Northwest riders, we're looking at you), these yellow-tinted lenses amplify available light, helping you see every obstacle in your path.
This lens can be found on the FURY, EDGE, DENSITY, RUSH, ULTIMATE, AERO and AEROLITE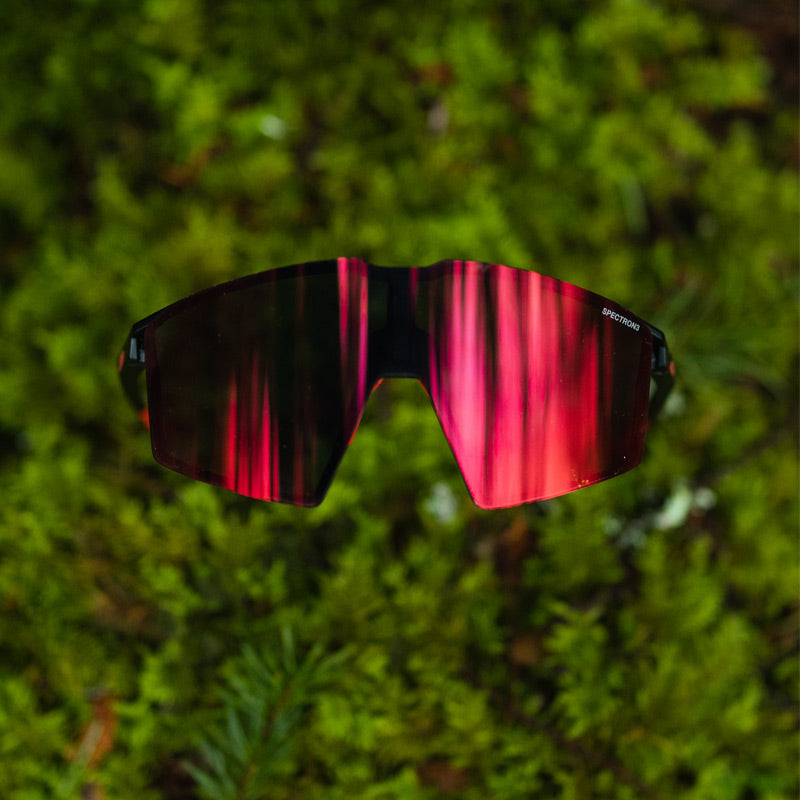 Best For Riders on a Budget
SPECTRON 3 | VLT - 13% | LENS BASE COLOR: BLUE, RED, AMBER, PINK, YELLOW
While this list has focused on our premium REACTIV lens options, the Spectron 3 lens is perfect for budget-conscious riders or fans of simplicity. Although less versatile than our REACTIV options, this lens comes in various base colors and excels in conditions from bright sun to overcast. The key to this lens is finding the base color that works best for your style and local environment. Darker base colors block slightly more UV light when compared to red, yellow, or pink.
This lens can be found on the FURY, EDGE, DENSITY, RUSH, ULTIMATE, AERO, SPLIT and AEROLITE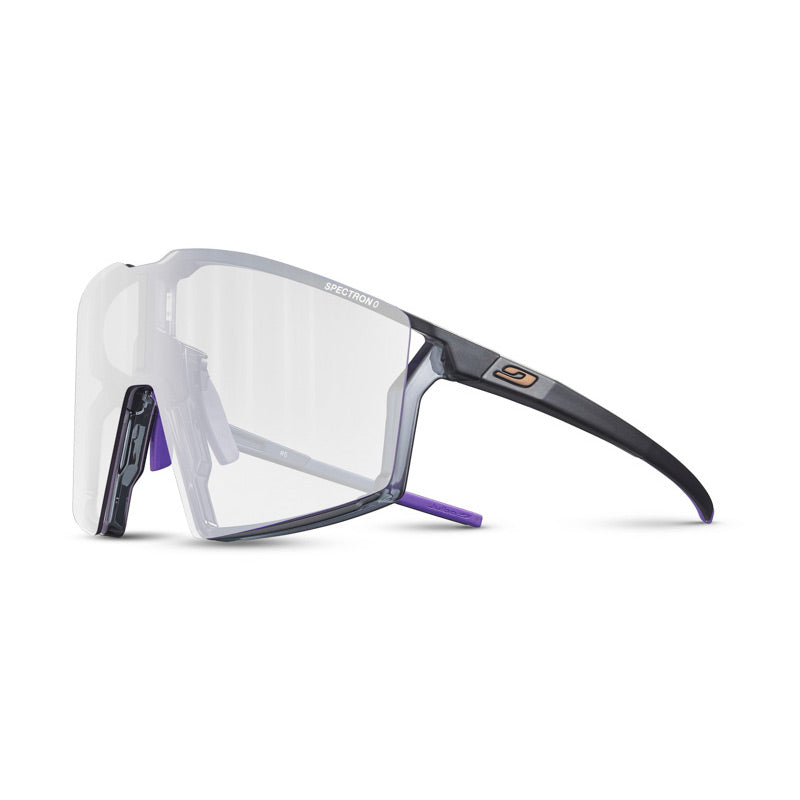 Best For Mud
SPECTRON 0 | VLT - 87% | LENS BASE COLOR: NONE
When conditions are just plain terrible, Spectron 0 lenses can be king for their clarity and price. Only two styles of the EDGE are sold with clear, Spectron 0 lenses, however these lenses are available for purchase for the EDGE, FURY and RUSH and sell for just $30-45, depending on the model. That means you can easily swap in a clear lens for muddy conditions when you don't want to endanger your premium REACTIV lenses. 
These lenses can be found in the SPARE PARTS section of the website.
Whether it's a REACTIV Photochromic or Spectron, the ideal sunglass lens for mountain biking not only protects your eyesight and prevents eye fatigue but also helps you maintain clear vision in any condition, elevating your ride and keeping you on the trail longer and more often. When it comes to lenses, Julbo never compromises, and neither should you.