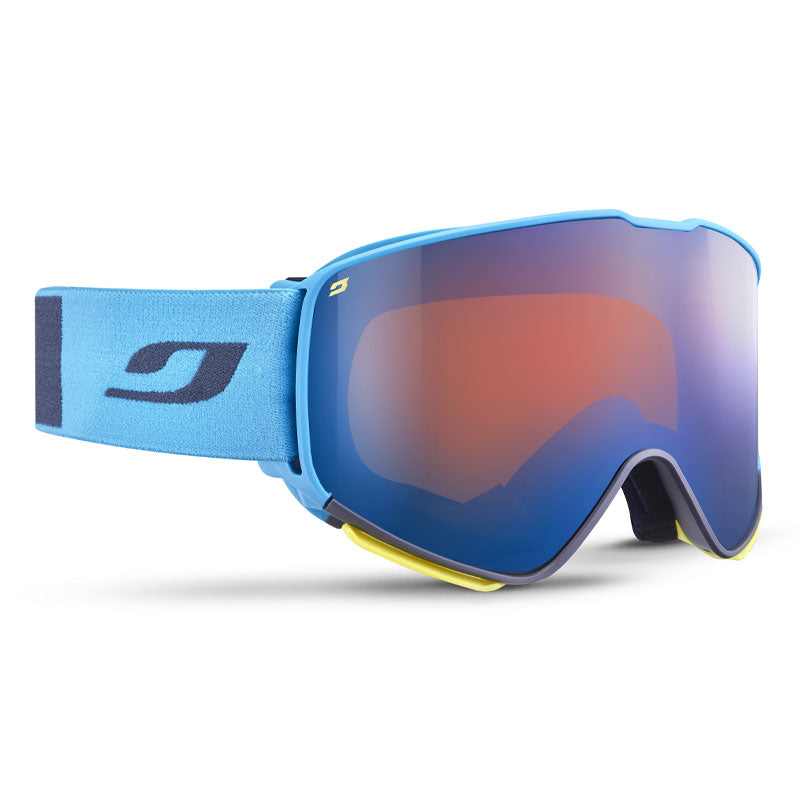 Quickshift MTB
Julbo shakes the frame of MTB goggles by bringing to the market the first enduro goggle with drop-outs, thanks to our new SwitchAir system. Remove the drop-outs for the frame to climb with a 100% ventilated goggle and a lighter contact on the face. Put them back, to benefit of a perfect protection while crushing the downhill. With its wide double lens and its perfect fit with any helmets, our Quickshift MTB goggle is the new benchmark for aggressive mountain biking, uphill or downhill, no matter the weather. Find a trail, shred it, repeat.
Switch Air System: Thanks to two drop-outs on the bottom of the frame, goggles fitted with the SwitchAir system benefit from lighter contact on the face and total venting so they can still be worn even during intense efforts. The drop-outs are quick and easy to reattach via a magnet system, giving the user total protection and control over air flow.
Frameless Construction: Slim frame that provides a wide field of vision for a high, unobstructed viewing experience.
Cylindrical Double Lens: For additional protection
Anti-Fog Coating:  The inner surface of the lens has an additional anti-fog coating.
Soft Foam:  Single density foam for comfort and a soft-touch layer for comfortable contact with the skin.
Overstrap: Offset strap for compatibility with all types of helmets.
Full Silicone Strap: Strap lined with a silicone strip for perfect grip.
Double Adjustment Strap: Two Loops on either side of the strap for symmetrical adjustment in the blink of an eye.
Extra-Wide Strap: An extra-wide strap for an assertive style and guaranteed grip.
Size: Medium
Lens Size (mm):  172
Lens Height (mm): 93
Properly cleaning your eyewear can prevent damage and prolong its lifetime. Avoid using solvents, chemical cleaners, paper-based products, gloves or other abrasive materials that may damage the lens. 
| | |
| --- | --- |
| | 1. Gently wash the frame and lens in soapy water. |
|   | 2. Rinse the frame and lens thoroughly with clean water. |
| | 3. Wipe away moisture with a soft microfiber cloth or non-abrasive material. Let the glasses air-dry. |
| | 4. Store glasses in their microfiber case/pouch. Avoid direct sunlight or leaving next to a heat source. |